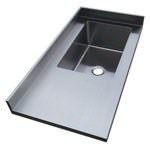 Stainless steel counter tops and table tops
Products custom made to order
Clean look, hygiene and a lifetime of usage. Stainless steel counter tops are by far the most used type of metal counter tops. Heavy duty, yet delicately beautiful, these items will look good with appliances in a home, industrial kitchen, bar or restaurant.


| | |
| --- | --- |
| Stainless steel counter tops are commonly fabricated with these materials and finishes: | REQUEST A QUOTE |
Riverside also offers installation services in Massachusetts and parts of of New England
Gauges: 18 / 16 gauge are normally used. Counters with an integrated sink require 14 gauge.

Why stainless steel: It is easy to clean, anti bacterial, and it lasts a lifetime.

Joints: Tops can be welded and sanded smooth in 14 gauge, sometimes even in 16 gauge. For items that have to be made in separate pieces, because of their shape, length or because they are being shipped, the customer will normally put the pieces together with what is called a butt joint. That joint can then be later sealed in the field.

Finishes: most commonly, customers choose a #4 finish, which is what is normally seen on kitchen appliances. We also offer 2B, which is considered a commercial finish and a satin finish, that helps hide scratches from the sheets and from the fabrication process. Click here for more information on #4 finish and here for 2B / Satin finish.

Substrate: Riverside we also provides and pre-glues the plywood substrate, available as birch, mdf or mdo.
Picture Gallery