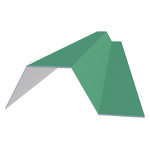 Corrugated Roofing and Wall Panels
Available in many different materials. Custom made to any width or length.
Riverside also offers corrugated roof and wall panels. Some standard profiles are available in 10' to 24' lengths while custom profiles are available in 10' to 12' lengths.
Standard profiles come in a variety of different configurations, and because they come out of a panel machine, they can be run to any length,normally 10' to 24'.
Custom profiles are manually made on a autobrake. We have the capability of matching any panel profile needed, in case an extra piece bought elsewhere is needed, or a repair job, when panels of unknown suppliers need to be replaced.
Installation is normally done with screws.


Riverside also offers installation services in Massachusetts and parts of of New England

Corrugated panels are commonly fabricated with these materials:
Accessories:
Riverside has all the accessories necessary for installation of standing seam, wall and flat lock roof panels. We have clips in stainless steel, copper and regular steel as well as nails, screws, sealants, fasteners and tools.