Custom metal counter tops and table tops
Products custom made to order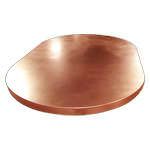 Riverside Sheet Metal can help you on your next kitchen, restaurant or bar project with counter tops, backsplashes, hood vents and shelves custom built to fit your specific needs.


Counter tops are commonly fabricated with these materials and finishes:
Riverside also offers installation services in Massachusetts and parts of of New England
Counter tops are beautiful additions to kitchens, bars and restaurants for either a modern or rustic look, depending on the finish applied. These items are normally available with copper, stainless steel and zinc.

Joints: Depending on the materials chosen, tops can be welded and finished to look seamless, they can be soldered together or just butt joined. They can also be prepared for someone else to do the soldering in the field, when big parts are shipped.

Finishes: Riverside offers many different finishes depending on the type of metal used such as raw, patinas, brushed and satin finish.

Substrate: Riverside we also provides and pre-glues the plywood substrate, available as birch, mdf or mdo.