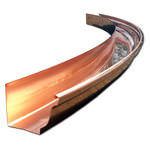 Radius Gutters
Custom made to order - Inside and outside curved gutters
Riverside Sheet Metal specializes in the custom fabrication of radius gutters. The most common profiles are half-round, k-style and brownstone gutter, but we can also manufacture custom designed gutter liners and radius gutters, including box gutters in some cases.

Radius gutters, or curved gutters can be manufacture to accommodate regular hangers, or to have custom made hangers installed. Riverside can also pre-install hangers, outlets and end caps.

To have a radius gutter made, we need to know the profile of the curved gutter, the radius of the arc (if not exact, a rigid template will do), if it's an inside or outside radius and the material for it.

Radius gutters are normally fabricated in 7.5' lengths, front to back all in one piece (5" and 6" k-style, brownstone and half round). Additionally, gutters with custom profiles may be manufactured in different lengths. On those, all seams are thoroughly soldered on copper gutters, ensuring a long lasting joint, while the same are riveted on aluminum gutters.

Riverside also offers installation services in Massachusetts and parts of of New England
5" & 6" k-style radius gutter
Up to 7.5' lengths

5" & 6" brownstone radius gutter
Up to 7.5' lengths

5" & 6" half-round radius gutter
Up to 7.5' lengths















| | |
| --- | --- |
| Radius gutters are commonly fabricated with these materials: | REQUEST A QUOTE |
Accessories:
Riverside has all the accessories necessary for installation of standard gutters in stock, and can fabricate any custom items for any type of custom gutters, such as: custom hangers, end caps, downspouts, outlets and more.
Riverside will also pre-install hangers, pre-cut and/or solder miters, outlets, end caps and lead lines for any gutter application.
Gutter installation Gallery