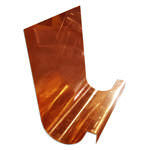 Gutter Liners
Products custom made to order
Wooden gutters are certainly beautiful. Not so attractive are rotten wooden gutters. Over time, these gutters develop holes and rot. That's where gutter liners come into action.

Gutter liners sit inside wooden gutters and over its face, protecting the gutters from the rain. A dry wooden gutter will last much longer than a gutter that's being affected by the elements, such as water, all the time.

Riverside can fabricate any profile of gutter liners custom made to order.

We also offer radius gutter liners.

Riverside also offers installation services in Massachusetts and parts of of New England
Custom gutter liner
10' lengths

Custom gutter liner
10' lengths

Custom gutter liner
10' lengths








| | |
| --- | --- |
| Gutters liners are commonly fabricated with these materials: | REQUEST A QUOTE |
Accessories:
Riverside has all the accessories necessary for installation of standard gutters in stock, and can fabricate any custom items for any type of custom gutters, such as: custom hangers, end caps, downspouts, outlets and more.
Riverside will also pre-install hangers, pre-cut and/or solder miters, outlets, end caps and lead lines for any gutter application.
Gutter installation Gallery