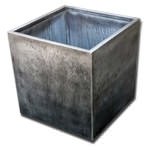 Planters, Flower & Window Boxes
Custom made products in any size, shape or material
Planters add an immense amount of beauty to any space. The ever changing look of copper, the clean look of stainless steel, the distinct look of zinc or a burnished copper look makes planters, flower or window boxes one of our most popular items.

These decorative containers are always custom fabricated to our customer's specifications. Riverside's craftsmen will always solder or weld such parts unless otherwise specified. We can also add decorative details (such as letters, rivets or bars for example) or a different finish (such as a burnished look).

Riverside Sheet Metal custom fabricates every planter to order with maximum attention to detail, providing you with the design and specifications your project needs. Mostly, these parts are made out of copper, but Riverside can also make these with aluminum, freedom gray, stainless steel, zinc (99% pure), pre-patina copper, lead coated copper or galvanized steel (zinc coated).


Riverside also offers installation services in Massachusetts and parts of of New England
Planters are commonly fabricated with these materials and finishes:
Commonly fabricated with below profiles. Custom profiles also available.