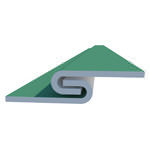 Flat Lock Panels
Available in many different materials. Custom made to any width or length.
Available in any size, the flat locked panel is commonly used where a more monolithic finished surface is desired. You have probably seen it and possibly did not not know what it was. Often made of copper so it's seams can be soldered, it is generally rectangular and panels are normally around 18" x 24" or 24" by 36" in stock. It also makes a wonderful industrial looking wall panel.

Installation is done via using clips to secure the panels down to a roof or wall. On a roof, the locks are hammered tight and soldered. While the same can be done for walls, this panel is manufactured in a way that, when installed correctly, it is water directional and in some wall applications, soldering may not be needed.

Riverside can manufacture flat lock panels to any size or shape, including radius panels. We can also pre tin the seams for easier soldering.


Riverside also offers installation services in Massachusetts and parts of of New England

Flat lock panels are commonly fabricated with these materials:
Accessories:
Riverside has all the accessories necessary for installation of standing seam, wall and flat lock roof panels. We have clips in stainless steel, copper and regular steel as well as nails, screws, sealants, fasteners and tools.