Zinc counter tops and table tops
Products custom made to order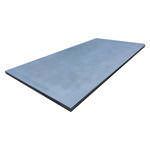 Zinc counter tops offer an ever changing different look. Clean, yet sometimes rustic, these are our most popular counter tops at the moment.


Zinc counter tops are commonly fabricated with these materials and finishes:
Riverside also offers installation services in Massachusetts and parts of of New England
Gauges: 1.5 mm (~0.063") is normally used. 0.8 mm is also available for counters with only corner or no seams at all.
Riverside works with 99% pure zinc. It is important to note that galvanized steel, (zinc coated steel) counter tops are also sold and advertised as "zinc counter tops" elsewhere. That is a completely different, less expensive material which does not possess zinc's properties or life span.

Why zinc: The beauty of zinc lies on its ever changing looks, which is why it is called a "living material". Its color and patina will change with time, depending on usage and exposure. It is non-porous and has anti-bacterial properties.

Joints: Tops can be welded and finished with 1.5 mm and soldered in any other thickness. We normally solder flat seams and weld corners. When tops are sold in separate pieces, the customer can place the parts together and seal them, with a simple butt joint, or have someone weld or solder in the field. We can also add rivets, bolts or anything else to give that extra detailed look to your counter top.

Finishes: Counter tops are beautiful additions to kitchens, bars and restaurants for either a modern or rustic look, depending on the finish applied. Finishes available are: raw, dark patina, brushed and satin finish. Click here for more information on finishes.
It is important to note that the material's look is ever changing unless a clear coat is applied.

Substrate: Riverside we also provides and pre-glues the plywood substrate, available as birch, mdf or mdo.