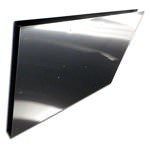 Kick Plates
Products custom made to order
Add value and beauty to your property with a door kick plate (also known as a toe kick). These items protect your doors from wear and tear, specially when you have your arms full of groceries and are a nice little extra detail.
These parts are commonly fabricated with copper, brass and stainless steel, but can also be fabricated with zinc or galvanized steel.
Riverside fabricates kick plates custom to order. Normally, these items are "u" shaped or flat but can be made in any size, material or shape. Pre-drilled holes may also be added for easier installation.


Custom door kick plates are commonly fabricated with these materials:
Riverside also offers installation services in Massachusetts and parts of of New England