Single Lock Panels
Available in many different materials. Custom made on site to any length.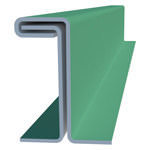 Available in 1", 1.5" and 2". Standing seam roof panels are the classic standard. Long before machines were around to extrude panels, contractors all over the world were installing this definitive look. The 1.5" and 2" relatives of this beautiful panel were developed to create greater shadow lines, to add structural strength, and to provide greater integrity in low sloped situations.

Installation is done via using clips to secure the panels down to a roof and folding the locks only once, hence the name "single lock panels".

Riverside has panel machines that will run panels on site to our customers in different sizes, materials and lengths. We also offer radius and tapered panels that can be manufactured at our location.


Riverside also offers installation services in Massachusetts and parts of of New England

Standing seam panels are commonly fabricated with these materials:
Accessories:
Riverside has all the accessories necessary for installation of standing seam, wall and flat lock roof panels. We have clips in stainless steel, copper and regular steel as well as nails, screws, sealants, fasteners and tools.