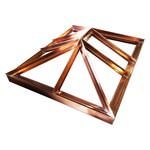 Skylights
Custom made products
Skylights are custom fabricated components installed on a roof to admit light and/or fresh air.

Riverside Sheet Metal can replicate or custom fabricate skylights to meet your project's specifications. These items will vary in many ways, for example: some skylights admit air and light, since these can be opened and closed while some others are made just to receive light. Either way, a skylight is a beautiful addition to a house, letting in sunshine and decorating a roof.

Riverside Sheet Metal will make sure that your skylight is not only beautiful and functional, but waterproof. Mostly, skylights that are fabricated in our shop are made out of copper, freedom gray, TCS 2 and stainless steel, since soldering/welding guarantees a long lasting waterproof joint, but we'll also make these items out of aluminum, and colored steel for metal roofing.
Riverside also offers installation services in Massachusetts and parts of of New England
Picture Gallery