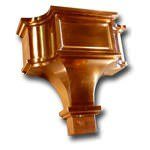 Leader Heads
Custom made products
Components used to direct water from a through-wall scupper, gutter or valley to a downspout. Also known as a collector head, conductor head or collector box.

Riverside Sheet Metal has in stock the small & large federal style leader heads, but most of the products we sell are custom fabricated to order. We specialize in matching existing profiles with precision.

These items can be fabricated in several different metals and sizes, including copper, lead coated copper, freedom gray, TCS 2, aluminum and even stainless steel.

Standard models - Scroll down for pictures of custom made leader heads
Custom Made Leader Heads - Picture Gallery