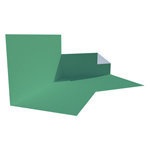 Kick Out Flashing
Products custom made to order
Kick Out Flashing parts are normally used to direct water away from a wall next to a roof into gutters or leader header systems.

Simple and effective, the items help to prevent leaks on one of the most vulnerable areas of a roof, the intersection between a roof and a side wall. A kick out flashing system helps to direct rainwater from the roof to a gutter system or leader head, avoiding leaks, water penetration into the sidewall and running water marks alongside a wall.

One of the biggest advantages of our kick out flashing systems is that they are made from one solid piece of metal and custom bent into shape, avoiding the necessity to seal. There are no joints or seams!

These items are always custom made to order. Normally fabricated from a 8"x10" piece of metal (resulting in a 4"x4"x10" L shaped piece), these items may also be fabricated in other profiles, angles, sizes and many different materials.

Riverside provides kick out flashing metal to general contractors, roofers and do-it-yourself home owners. Special pricing available for large quantities.
See images for installation method examples.


Kick Out Flashing Metal is commonly fabricated with these materials: