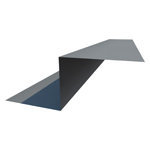 Custom Z Furring Channel
Products custom made to order
Z Furring Channel is a type of flashing metal used to accommodate rigid insulation materials and provides for the attachment of plaster, veneer and gypsum wallboard.

These items are always custom fabricated, therefore can be custom made to any profile, angle, size and many different materials. Normally, these items are fabricated out of galvanized steel and measure 10' in length but can also be fabricated in 12' lengths, or be pre-cut to size. We can also match any profile.

Riverside provides z furring channel flashing metal to general contractors, roofers and do-it-yourself home owners. Special pricing available for large quantities.
See images for installation method examples.

Riverside also offers installation services in Massachusetts and parts of of New England
Z furring channel metal is commonly fabricated with these materials: