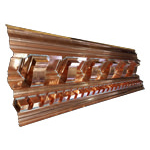 Cornice Edge Metal
Products custom made to order
A cornice is a decorative yet functional molding that crowns a building. Its main function is to throw rainwater away from building's walls while featuring a decorative design. In residential buildings, this function is handled by projecting gable ends, roof eaves, and gutters. However, house eaves may also be called "cornices" if they are finished with decorative molding. In this sense, most cornices are also eaves (in that they overhang the sides of the building).

All cornice work done by Riverside is custom made to order. This means that we can create or match most profiles.
Cornice edge metal may also be fabricated with a built in gutter, which is a great usage for the space between the top of the cornice metal and the building.
Cornice metal is custom fabricated to any measurements and normally measures 10' in length but can also be bent in 12' lengths.

Riverside also manufactures custom splice plates, cover plates, pre-cut miters and s-clip slip joint strips needed for installation.

Riverside provides cornice metal for general contractors, roofers and do-it-yourself home owners. Special pricing available for large quantities.
See images for installation method examples.


Riverside also offers installation services in Massachusetts and parts of of New England
Cornice edge metal is commonly fabricated with these materials: