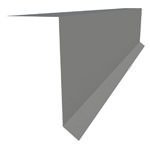 Hook Strip
Products custom made to order
Hook Strip is a type of edge metal designed to hold gravel stop, baldy cleat, parapet wall cap or any other type of custom edge metal from up-lifting winds. Its installation can be done via fasteners from the top of the roof and / or from the fascia board. The hook strip is placed first on a roof, then the edge metal hooks onto the hook strip's drip edge, creating a locked system.

Hook Strip edge metal is custom fabricated to any measurements and angles. It usually measures 10' in length but can also be bent in 12' lengths. We also manufacture radius hook strip for edge metal and can match any profile.

Riverside provides hook strip metal for general contractors, roofers and do-it-yourself home owners. Special pricing available for large quantities.
See images for installation method examples.


Riverside also offers installation services in Massachusetts and parts of of New England
Hook strip for edge metal is commonly fabricated with these materials: