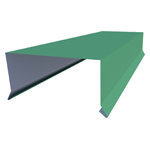 Parapet Wall Cap
Products custom made to order
This unique type of cap is designed to cover the top of parapet walls. Many buildings have flat roofs in certain areas specifically for air condoning units and etc. At the edge of these roofs, parapet walls are commonly found, and are vulnerable to leaks if not flashed correctly.

Parapet Wall Caps are custom fabricated to any measurements and it usually measure 10' in length but can also be bent in 12' lengths. We also manufacture radius parapet wall caps and can match any profile.

Riverside also manufactures custom hook strip, splice plates, cover plates, pre-cut miters and s-clip slip joint strips needed for installation. We recommend hook strip and splice plates or cover plates for installation.

Riverside provides parapet wall cap for general contractors, roofers and do-it-yourself home owners. Special pricing available for large quantities.
See images for installation method examples.


Riverside also offers installation services in Massachusetts and parts of of New England
Parapet wall cap metal is commonly fabricated with these materials: