Reglet Flashing Metal
Products custom made to order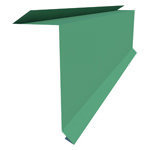 Reglet flashing is installed between a wall (or the back side of a parapet wall) and a roof. This flashing is used with counter flashings to avoid leaks in one of the most crucial areas of a roof which is a ninety degree edge.

The installation is done by cutting into the mortar between bricks or concrete on a wall or chimney, and placing the top part of the reglet flashing in that gap. The small angled part located at the top of the reglet flashing allows the part to be installed in a way that's very hard to remove, which combined with a sealer, makes it for a waterproof joint.

These items are always custom fabricated, therefore can be custom made to any profile, angle, size and many different materials. Normally, these items measure 10' in length but can also be fabricated in 12' lengths, or be pre-cut to size. We can also match any profile.

Riverside provides reglet flashing metal to general contractors, roofers and do-it-yourself home owners. Special pricing available for large quantities.
See images for installation method examples.


Riverside also offers installation services in Massachusetts and parts of of New England
Reglet Flashing Metal is commonly fabricated with these materials: