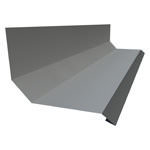 Through Wall Flashing Metal
Products custom made to order
Through Wall Masonry Flashing metal is a very important part in the construction business. The rigidity of materials such as copper and stainless steel make it a strong long lasting installation that is compatible with most sealants.

These items are always custom fabricated, therefore can be custom made to any profile, angle, size and many different materials. Normally, these items measure 10' in length but can also be fabricated in 12' lengths, or be pre-cut to size. We can also match any profile.

Riverside also manufactures custom pre-cut soldered or spot welded miters and end dams (end caps) in smaller parts or pre installed in a 10' or 12' long piece needed for installation.

Riverside provides Through Wall Masonry Flashing Metal to general contractors, roofers and do-it-yourself home owners. Special pricing available for large quantities.
See images for installation method examples.


Riverside also offers installation services in Massachusetts and parts of of New England
Through wall masonry metal is commonly fabricated with these materials: