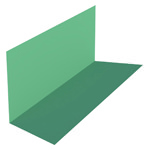 Step Flashing
Products custom made to order
Step flashing has its name due to its look after installation (as steps going up on a wall). It is used for protection against water leakage when a roof meets a vertical structure, such as a wall or chimney for example.

Step flashing can be fabricated in any size or metal, but its commonly fabricated in copper due to better protection against leakage when soldered. We also manufacture custom step flashing such as corner parts and can match any profile.

Riverside also manufactures custom chimney flashing kits and skylight kits ready for installation.

Riverside provides step flashing for general contractors, roofers and do-it-yourself home owners. Special pricing available for large quantities.
See images for installation method examples.


Riverside also offers installation services in Massachusetts and parts of of New England
Step flashing metal is commonly fabricated with these materials: