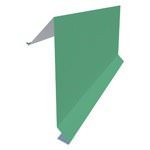 Snap Edge Metal
Products custom made to order
Snap edge metal is designed for installation on flat rubber roofs with or without gravel. It features an angled bend at the top that is also found on its hook strip. Installation is easy:
First the hook strip is attached to the fascia, then the snap edge metal is placed over the hook strip. By pushing down on the edge metal, the hook strip flexes to allow the hemmed edge to hook onto the hook strips drip edge.

Why snap edge? With snap edge, no perforation is needed on the roof. Installation is easy and offers better protection against up-lift wind damage.

Snap Edge metal is custom fabricated to any measurements and it usually measures 10' in length but can also be bent in 12' lengths.

Riverside also manufactures custom hook strip, splice plates, cover plates, pre-cut miters and s-clip slip joint strips needed for installation. Hook strip is needed for the installation of this product, and we also recommend splice plates or cover plates for installation.

Riverside provides snap edge metal for general contractors, roofers and do-it-yourself home owners. Special pricing available for large quantities.
See images for installation method examples.


Riverside also offers installation services in Massachusetts and parts of of New England
Snap edge fascia metal is commonly fabricated with these materials: