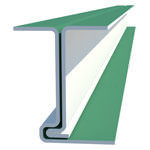 Concealed Soffit Panels
Riverside no longer offers this profile. It is here as a courtesy for reference only.
Available in 1", it's just that. Not a roof panel, but a beautiful clean line to finish a soffit or wall used as either a vertical or horizontal panel.

Installation is done via securing one side of the panels with nails or fasteners. The second panel slips right in, hiding the fasteners.

Riverside has panel machines that will run panels on site to our customers in different sizes, materials and lengths. We also offer tapered panels that can be manufactured at our location.


Riverside also offers installation services in Massachusetts and parts of of New England

Concealed soffit panels are commonly fabricated with these materials:
Accessories:
Riverside has all the accessories necessary for installation of standing seam, wall and flat lock roof panels. We have clips in stainless steel, copper and regular steel as well as nails, screws, sealants, fasteners and tools.